Roman Style Pizza Al Taglio Pans
Roman pizza al taglio is bursting onto the US pizza scene with good reason. The light, airy crust is a delight to bite into, and the toppings are both baked and fresh with a myriad of varieties.
LloydPans has carefully designed these pans to replicate the sizes and shapes of the classic Roman pans and are finished with our stick-resistant coating that needs no seasoning, is metal utensil safe and ready for long-lasting commercial use.
The heavy 12 gauge aluminium pans are similar in weight to steel pans.
No seasoning required - ready for production
Permanent stick-resistant coating is metal utensil safe
Will never rust. Heavy weight, anodized aluminum with PSTK finish
Durable - double thick folded rim adds strength
Easy to clean and maintain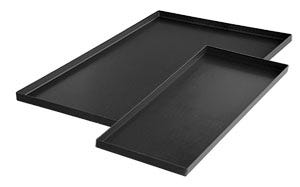 Pizza Al Taglio Pans
40x60 cm Full Size (15.75x23.62 inches)
20x60 cm Half Size (7.87x23.62 inches)
2 cm Deep (0.787 inch) with Folded Rim
12 gauge heavy anodized aluminum
PSTK Coating
Cutting / Display Boards
Commercial quality, woodfiber boards
Excellent cutting surface
1/4 inch thick
Dishwasher safe
Resistant to absorption, cuts and stains
Long lasting durability
Contact Us
For help ordering or for more information
509-468-8691
---
For More Products
Restaurant
Food Service
Bakery
Visit LloydPans.com