Standard or Coupe Style Pizza Trays
Available in sizes from 6 to 19 inches in diameter
Durable construction ensures integrity
Plate or Coupe Style rims
Both styles perform equally well...choose the style that works best for you
Specifications
NOTE: Standard and Coupe Style Serving Trays are measured on the outside of the pan
Buffet Line Application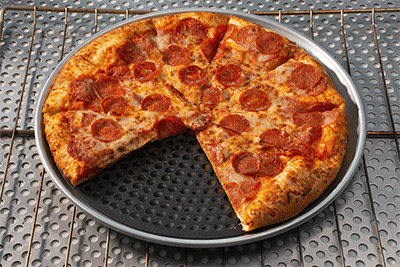 Coupe Style Serving Trays, coupled with our Quik-Disks® as inserts, are ideally suited to provide a place for trapped steam and oils to escape, keeping pizzas in optimum condition when sitting under heat lamps. For best results, choose a Coupe Style Tray that is one inch larger than the size of the Quik-Disk® selected.
Contact Us
For help ordering or for more information
509-468-8691
---
Prices
Product pricing on PizzaTools is the same as standard pricing on LloydPans website.
---
For More Products
Restaurant
Food Service
Bakery
Visit LloydPans.com